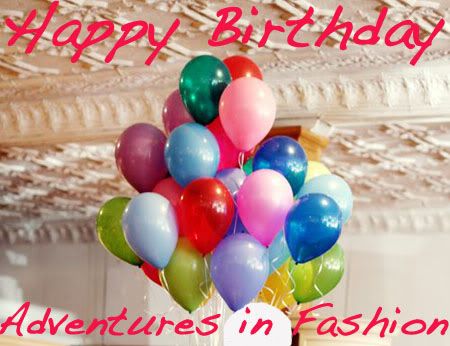 I can't believe my little blog began a year ago today with
this little post
... It feels like only yesterday and forever all at once! I started AIF as a creative outlet-- a place for me to express my love for fashion and to meet like-minded people-- and so far it's been one of the most fulfilling projects I've ever had the pleasure of working on.
This blog has become a major focal point in my life; from the moment I wake up in the morning to the minute my head hits the pillow at night, I'm constantly thinking of ways to improve AIF and make it more enjoyable for its lovely readers... To say that I eat, sleep, and breathe this blog would certainly not be an understatement!
Thank you all for sticking by me this past year-- your comments and feedback are appreciated more than you could ever know! And a special thank you goes out to Mr. AIF, whose constant support and encouragement keeps me chasing my dreams...
I couldn't have asked for a better first year, and for that I have you to thank, my dearest readers... So with that said, here's to another year of fashion adventures to come!