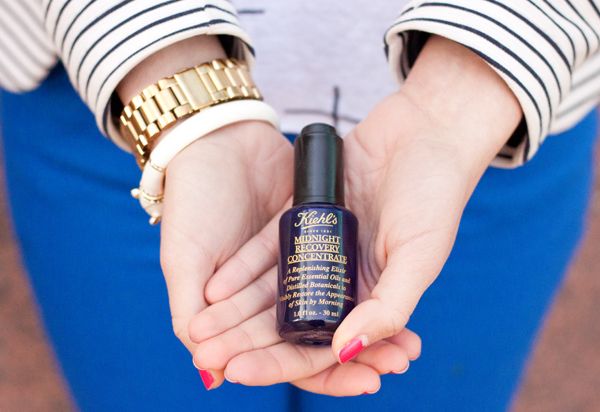 I
was fortunate enough to participate in the
Kiehl's
10 Day Change Your Skin Challenge
, featuring their cult favourite
Midnight Recovery Concentrate
. I had used the product sporadically in the past, but never on a daily (or, well,
nightly
) basis. And given the fact that my skin was getting so dry that it was verging on scaly, I jumped at the chance.
The first night of using the product was exactly as I remembered; a couple drops of the lightweight serum under my moisturizer left my skin looking soft and dewy, and I kicked myself for giving up on the stuff months before. When I awoke the next day, my face looked brighter and smoother than it had in ages...
I was hooked
.
All was well until I broke out pretty badly on the third day (although to be fair, there were hormonal factors at play,
if you know what I'm sayin
g), but by day five my skin was back on track and looking better than ever. My nose even stopped peeling under my foundation, which is something that I've been struggling with all winter. The verdict? Of all the serums I've tried in my day, this is honestly one of the better ones, and I wouldn't hesitate recommending it to anyone... Looks like someone's added a new staple to their skincare repertoire — This girl! xx