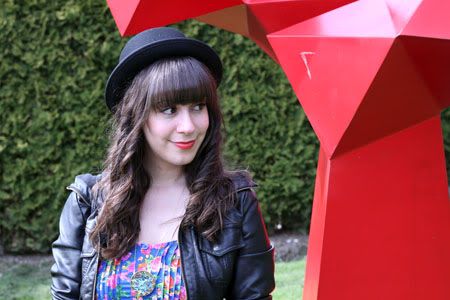 Hi everyone! So after about a week of being on the road and living out of a suitcase, I'm finally home and settling in as best as I can...
Finally
. It's been a long, tiring trip, but so worth it to be able to stop and see so many family members along the way.
We snapped these photos while visiting with Mr. AIF's family and friends in Vancouver... His mom took us to the incredibly beautiful VanDusen Gardens, a 55 acre slice of botanical heaven. I sorta feel like I've got a mad hatter vibe going on here, like I'm about to run off to a delightful little garden tea party or something... Are you getting that at all or is it just me? Hmmm...
Anyway, I bought this dress a little while ago at Forever 21, but wasn't feeling the floral print that day, so I tried to "toughen it up" by pairing it with black accessories...
much better
. Do you think this dress was in
one of the bags
that day? I still have to figure out the prize for the person who guesses correctly the most this month, but I'm thinking some kind of jewelry...
alright
;)
Outfit details: dress- Forever 21; faux leather jacket- Sirens; fringe bag- H&M; flats- Halston; hat- Forever 21; necklace- House of Harlo
w